I have a never ending growing pile of books I have to read, the joys of book-lovers all over the world. We never lack new and astounding materials to read, no matter if the book was published a thousand years ago or a day ago. My summer isn't going to be complete if there are no books involved, my summer reading list consists of books I definitely have to read, especially the one's I've been putting off for months. 🙂
---
Since You've Been Gone 
Author: Morgan Matson
Publisher: Simon & Schuster Books for Young Readers
Published: May 6, 2014
Language: English
Blurb
Before Sloane, Emily didn't go to parties, she barely talked to guys, and she didn't do anything crazy. Enter Sloane, social tornado and the best kind of best friend—someone who yanks you out of your shell.
But right before what should have been an epic summer, Sloane just…disappears. There's just a random to-do list with thirteen bizarre tasks that Emily would never try. But what if they can lead her to Sloane?
Getting through Sloane's list will mean a lot of firsts, and with a whole summer ahead of her—and with the unexpected help of the handsome Frank Porter—who knows what she'll find.
---
To All the Boys I've Loved Before
Author: Jenny Han
Publisher: Simon & Schuster Books for Young Readers
Published:  April 15, 2014
Language: English
Blurb
Lara Jean Song keeps her love letters in a hatbox her mother gave her. They aren't love letters that anyone else wrote for her; these are ones she's written. One for every boy she's ever loved—five in all. When she writes, she pours out her heart and soul and says all the things she would never say in real life, because her letters are for her eyes only. Until the day her secret letters are mailed, and suddenly, Lara Jean's love life goes from imaginary to out of control.
&
P.S. I Still Love You
Author: Jenny Han
Publisher: Simon & Schuster Books for Young Readers
Published: May 26, 2015
Language: English
Blurb
Lara Jean didn't expect to really fall for Peter. She and Peter were just pretending. Except suddenly they weren't. Now Lara Jean is more confused than ever. When another boy from her past returns to her life, Lara Jean's feelings for him return too. Can a girl be in love with two boys at once? In this charming and heartfelt sequel to the New York Times bestseller To All the Boys I've Loved Before, we see first love through the eyes of the unforgettable Lara Jean. Love is never easy, but maybe that's part of makes it so amazing.
---
Slow Burn (Driven 5)
Author: K. Bromberg
Publisher: Signet
Published: February 24, 2015
Language: English
Blurb
Reeling from the sudden loss of her sister, Haddie Montgomery has sworn off relationships. All she wanted from Beckett Daniels was a sexy distraction to help her escape her pain for just a little while….There weren't supposed to be any strings attached—so why can't she shake the memory of that unforgettable night from her thoughts? Or the taste of his kiss from her lips? No matter how hard Haddie tries to forget about him, Becks relentlessly tries to prove that she should start living for today. But she is determined to avoid romantic commitment, and she can always use her ex-boyfriend's reappearance to help snuff out the slow burn within her that Becks has sparked…. Or will fate force her to realize that this kind of connection doesn't come along very often and a chance at love is worth the risk?
&
Sweet Ache (Driven 6)
Author: K. Bromberg
Publisher: Signet
Published: June 2, 2015
Language: English
Blurb
Hawkin Play, the bad boy rock star with a good guy heart, has lived a lifetime of cleaning up after his twin brother's mistakes. Hunter's most recent screwup could land Hawke in jail and risk the band's future. Hawke agrees to guest lecture at a local college to stay in the judge's good graces—and a bet with his bandmate to seduce his sexy teaching assistant is icing on the cake. Quinlan Westin is harder to bed than Hawke imagined. She knows his type and is determined to avoid the rocker at all costs—even if their attraction runs deeper than simple lust. Just as Hawke might finally be winning over the girl, his brother has other plans. When Hunter realizes his twin finally has a weakness, he'll stop at nothing to take advantage….
---
The Accidental Assassin
Author: Nichole Chase
Publisher: CreateSpace Independent Publishing Platform 
Published: November 28, 2014
Language: English
Blurb
Ava McKenzie is a creature of habit. Life is passing her by and she has nothing to show for it. She's had the same job since she started college, she orders the same dish every time she goes to her favorite restaurant, and only reads books from authors she knows. There is nothing new or surprising in her life… until her best friend marries a man from London. When her newlywed friend asks her to house-sit while she honeymoons, Ava jumps at the chance. She thinks this could be the very thing she needs to shake up her life. Ava throws herself head first into her new lifestyle; she wants to try everything, go everywhere, and never get stuck in a rut again. Of course, offing a man in a car garage hadn't been one of the things on her list to try. Owen Walker spends every day in a new place with a new case. As one of the most renowned assassins in the world, he has his choice of marks—and he's never failed in a mission. When a new hit takes him back to his hometown, he looks forward to spending time somewhere familiar. What he isn't expecting is to help an attractive, confused American woman find out how she's ended up on a hit man's list. As Ava and Owen dodge bullets, will they be able to escape their undeniable attraction to each other? Or will all of that chemistry blow up in a shower of hot and dangerous sparks?
---
Shuttergirl
Author: C.D. Reiss
Publisher: 
Published: May 16, 2015
Language: English
Blurb
I never forgot her. Not for one minute. Not from the last time I saw her, at seventeen, to today. I measured all women against her and all women came up short. But being with her was unfeasible in high school, and it's taboo now. I see her sometimes, but I've never spoken to her. She runs, or I run. We're in the same town, on the same block, in the same building, and the gulf between us is just too wide to cross. Until tonight. —- He was my high school crush, back when I lived in a world that didn't want me. He was the perfect boy, and I was the outcast kid from the other side of town. And when he held my hand I thought I could fit in, just a little. I thought I could be his and he could be mine. Then he left, and my life fell apart. Now we are the king and queen of opposite sides of Hollywood. And we haven't spoken a word to each other. Until tonight.
---
The Deal
Author: Elle Kennedy 
Publisher: Elle Kennedy 
Published: February 24, 2015
Language: English
Blurb
She's about to make a deal with the college bad boy… Hannah Wells has finally found someone who turns her on. But while she might be confident in every other area of her life, she's carting around a full set of baggage when it comes to sex and seduction. If she wants to get her crush's attention, she'll have to step out of her comfort zone and make him take notice…even if it means tutoring the annoying, childish, cocky captain of the hockey team in exchange for a pretend date. …and it's going to be oh so good All Garrett Graham has ever wanted is to play professional hockey after graduation, but his plummeting GPA is threatening everything he's worked so hard for. If helping a sarcastic brunette make another guy jealous will help him secure his position on the team, he's all for it. But when one unexpected kiss leads to the wildest sex of both their lives, it doesn't take long for Garrett to realize that pretend isn't going to cut it. Now he just has to convince Hannah that the man she wants looks a lot like him.
&
The Mistake
Author: Elle Kennedy
Publisher: Elle Kennedy
Published: April 28, 2015
Language: English
Blurb
He's a player in more ways than one… College junior John Logan can get any girl he wants. For this hockey star, life is a parade of parties and hook-ups, but behind his killer grins and easygoing charm, he hides growing despair about the dead-end road he'll be forced to walk after graduation. A sexy encounter with freshman Grace Ivers is just the distraction he needs, but when a thoughtless mistake pushes her away, Logan plans to spend his final year proving to her that he's worth a second chance. Now he's going to need to up his game… After a less than stellar freshman year, Grace is back at Briar University, older, wiser, and so over the arrogant hockey player she nearly handed her V-card to. She's not a charity case, and she's not the quiet butterfly she was when they first hooked up. If Logan expects her to roll over and beg like all his other puck bunnies, he can think again. He wants her back? He'll have to work for it. This time around, she'll be the one in the driver's seat…and she plans on driving him wild.
---
The Law of Moses
Author: Amy Harmon 
Publisher: Amy Harmon
Published: November 27, 2014
Language: English
Blurb
If I tell you right up front, right in the beginning that I lost him, it will be easier for you to bear. You will know it's coming, and it will hurt. But you'll be able to prepare. Someone found him in a laundry basket at the Quick Wash, wrapped in a towel, a few hours old and close to death. They called him Baby Moses when they shared his story on the ten o'clock news – the little baby left in a basket at a dingy Laundromat, born to a crack addict and expected to have all sorts of problems. I imagined the crack baby, Moses, having a giant crack that ran down his body, like he'd been broken at birth. I knew that wasn't what the term meant, but the image stuck in my mind. Maybe the fact that he was broken drew me to him from the start. It all happened before I was born, and by the time I met Moses and my mom told me all about him, the story was old news and nobody wanted anything to do with him. People love babies, even sick babies. Even crack babies. But babies grow up to be kids, and kids grow up to be teenagers. Nobody wants a messed up teenager. And Moses was messed up. Moses was a law unto himself. But he was also strange and exotic and beautiful. To be with him would change my life in ways I could never have imagined. Maybe I should have stayed away. Maybe I should have listened. My mother warned me. Even Moses warned me. But I didn't stay away. And so begins a story of pain and promise, of heartache and healing, of life and death. A story of before and after, of new beginnings and never-endings. But most of all . . . a love story.
&
The Song of David
Author: Amy Harmon 
Publisher: Amy Harmon 
Published: June 13, 2015
Language: English
Blurb
I won my first fight when I was eleven years old, and I've been throwing punches ever since. Fighting is the purest, truest, most elemental thing there is. Some people describe heaven as a sea of unending white. Where choirs sing and loved ones await. But for me, heaven was something else. It sounded like the bell at the beginning of a round, it tasted like adrenaline, it burned like sweat in my eyes and fire in my belly. It looked like the blur of screaming crowds and an opponent who wanted my blood. For me, heaven was the octagon. Until I met Millie, and heaven became something different. I became something different. I knew I loved her when I watched her stand perfectly still in the middle of a crowded room, people swarming, buzzing, slipping around her, her straight dancer's posture unyielding, her chin high, her hands loose at her sides. No one seemed to see her at all, except for the few who squeezed past her, tossing exasperated looks at her unsmiling face. When they realized she wasn't normal, they hurried away. Why was it that no one saw her, yet she was the first thing I saw? If heaven was the octagon, then she was my angel at the center of it all, the girl with the power to take me down and lift me up again. The girl I wanted to fight for, the girl I wanted to claim. The girl who taught me that sometimes the biggest heroes go unsung and the most important battles are the ones we don't think we can win.
---
Three, Two, One (321)
Author: JA Huss
Publisher: Science Future Press
Published: January 27, 2015
Language: English
Blurb
ONE GIRL Battered, barefoot, and huddled under a bookstore awning in the pouring rain, Blue only knows one thing. After fifteen months of captivity, finally… she is free. TWO FRIENDS Self-made millionaires JD and Ark are not out to save anyone when they stumble upon a wet and shivering girl one early Sunday morning. But when you sell sex for a living and salvation rings your bell… you answer the call. THREE SOULMATES After years of searching, love lifts the veil of darkness, and three people–with three very big secrets–find themselves bound together in a relationship that defies the odds. Or does it? Love. Lust. Sex. This trinity might be perfection… but not everything should come in 3's.
---
A Pound of Flesh
Author: Sophie Jackson
Publisher: Gallery Books
Published: June 9, 2015
Language: English
Blurb
Haunted by nightmares of her father's street murder fifteen years ago, Kat Lane decides to face her fears and uphold his legacy of helping others by teaching inmates at a New York prison. There she meets arrogant Wesley Carter, who's as handsome as he is dangerous, as mysterious as he is quick-witted, and with a reputation that ensures people will keep their distance. As teacher and student, Kat and Carter are forced to leave their animosities at the door and learn that one should never judge a book by its cover. As Carter's barriers begin to crumble, Kat realizes there's much more to her angry student than she thought, leaving them to face a new, perilous obstacle: their undeniable attraction to one another. When Carter is released and Kat continues to tutor him on the outside, the obstacles mount. Can they fight the odds to make their relationship work? Will Kat's family and friends ever accept her being with someone of his background? And will Kat's discovery of Carter's role on the night her father died force them apart forever…or unite them?
---
Fair Game (The Rules Book 1)
Author: Monica Murphy
Publisher: Monica Murphy
Published: May 12, 2015
Language: English
Blurb
Bad enough Jade Frost's boyfriend drags her to a boring poker game. Even worse that he actually threw her into the betting pot during an intense round…and lost. Talk about the perfect excuse for Jade to make him her ex-boyfriend. Now she supposedly belongs to the ultra rich, extremely gorgeous Shep Prescott. He could have anything he wants yet he seems to be in hot pursuit of her. No matter how rude, how snarky, how impossible she acts, it doesn't stop him. More like her horrible behavior seems to make him want her more. When she finds herself starting to fall for him, Jade's confused. There's more to Shep than the carefree rich charmer he portrays. No way could he want a serious relationship with her…or could he?
---
Vérité
Author: Rachel Blaufeld
Publisher: Rachel Blaufeld Publishing
Published: June 12, 2015
Language: English
Blurb
That's me—Tingly Simmons—athlete, foreign-language major, professor lover, obsessed idiot girl. Definitely not a frat rat or sorority slut. I've never even played beer pong. I ditched the vapid, soulless high-society life of Los Angeles for the promise of something more meaningful in rural Ohio. Accepting a track scholarship for college, I tried running my way to happiness, but instead I ended up sleeping with my French professor and falling head over heels for him. When that relationship fell apart, so did I. Barely hanging on by a thread and using the most absurd coping skills, I was determined to hide behind my past indiscretions. That was, until I met Tiberius Jones. Never in my wildest dreams did I think I'd learn the truth about love from a six-foot-five basketball player.
---
The Savages
Author: Matt Whyman
Publisher: Hot Key Books
Published: June 6, 2013
Language: English
Blurb
They'd love to have you for dinner. Sasha Savage is in love with Jack Greenway – a handsome, charming, clever…vegetarian. Which would be acceptable if it weren't for the fact that Sasha's family are very much 'carnivorous', with strong views to boot. Behind the respectable family facade all is not as it seems. Sasha's father Titus rules his clan with an iron fist, and although her mother Angelica never has a hair out of place, her credit card bills are shocking and her culinary skills are getting more…'adventurous' by the day. As for Sasha's demonic brother Ivan? Well, after accidentally decapitating a supermodel in their family bathroom his golden boy image is looking wobbly. To the outsider the Savages might look like the perfect family, but there is more to them than meets the eye. When the too-curious private detective Vernon English starts to dig for darker truths, this tight knit family starts to unravel – as does their sinister and predatory taste in human beings…
&
American Savage (The Savages 2)
Author: Matt Whyman
Publisher: Hot Key Books
Published: June 5, 2014
Language: English
Blurb
The sharp and hilarious second book in THE SAVAGES series about an everyday family with some not-so-everyday problems…Vegan, veggie, carnivore…humanitarian? Welcome to the top of the food chain. The Savages are back – this time in a country where servings come supersized. Titus, Angelica and the kids go to great lengths to fit into their new lives in sunny Florida. But that's not easy when their appetite runs to feasts of human flesh. In this dark comic serving of everyday family life with contemporary cannibals, the Savages seek to hide in plain sight by setting up a vegan cafe. But when the venture turns out to be a surprise sensation, and bad apples bob to the surface, Titus is forced to question whether the family have finally bitten off more than they can chew.
---
Aristotle and Dante Discover the Secrets of the Universe
Author: Benjamin Alire Saenz
Publisher: Simon & Schuster Books for Young Readers
Published: April 1, 2014
Language: English
Blurb
Aristotle is an angry teen with a brother in prison. Dante is a know-it-all who has an unusual way of looking at the world. When the two meet at the swimming pool, they seem to have nothing in common. But as the loners start spending time together, they discover that they share a special friendship—the kind that changes lives and lasts a lifetime. And it is through this friendship that Ari and Dante will learn the most important truths about themselves and the kind of people they want to be.
---
Inferno
Author: Dan Brown
Publisher: Doubleday
Published: May 14, 2013
Language: English
Blurb
In his international blockbusters The Da Vinci Code, Angels & Demons, and The Lost Symbol, Dan Brown masterfully fused history, art, codes, and symbols. In this riveting new thriller, Brown returns to his element and has crafted his highest-stakes novel to date.
In the heart of Italy, Harvard professor of symbology Robert Langdon is drawn into a harrowing world centered on one of history's most enduring and mysterious literary masterpieces . . . Dante's Inferno.
Against this backdrop, Langdon battles a chilling adversary and grapples with an ingenious riddle that pulls him into a landscape of classic art, secret passageways, and futuristic science. Drawing from Dante's dark epic poem, Langdon races to find answers and decide whom to trust . . . before the world is irrevocably altered.
---
Tangled, Holy Frigging Matrimony,Twisted, Tamed & Tied. by Emma Chase 2013-2014, Gallery Books.
Blurb
Successful investment banker and playboy Drew Evans's world is turned upside down when he falls in love for the first time. Drew Evans is your typical mid-twenties/early thirties playboy. Every Saturday brings about a new bar hopping journey, a new girl, and a new one night stand. When the story begins, however, he's without any of those things: instead, Drew is scruffy, withdrawn, and lounging around his lush apartment with what he thinks is a clear case of the flu. After a cross examination from his sister, though, it's clear Drew is sick- lovesick, that is. Drew shares his story with the reader, and we are led to a flashback from four months ago.
---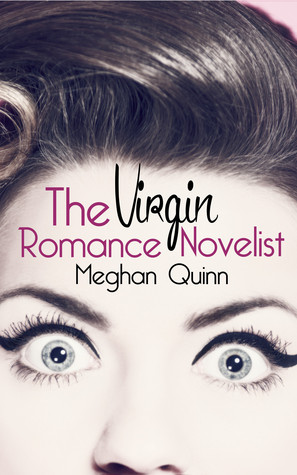 The Virgin Romance Novelist
Author: Meghan Quinn
Publisher: Meghan Quinn 
Published: April 2, 2015
Language: English
Blurb
Her bosom heaved at an alarming rate as his rough hand found its way down to her soft, yet wiry briar patch…
Can you say briar patch in a romance novel? What about meat sword? That's what it is…a meat sword, right, all meaty and sword like, slaying through the inner dungeons of a woman's dark desires. What about breasts? Do bosoms really heave?
God, I have no idea what happens when private parts touch.
I'm a virgin trying to write a romance novel and can't seem to write past a sex scene thanks to my lack of experience.
My two best friends encourage me to drop the pen for a while and gain some real life practice through multiple dating facets such as blind dates, online profiles, and random hookups.
But losing my virginity is proving to be tougher than expected…
---