Author Jana Aston Book Wrong Series Wrong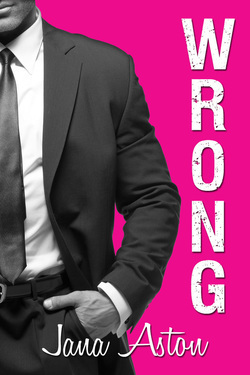 Why did I pick up this book? I don't know I saw one of my favorite reviewers gave Right a raving five stars review and talking about how much she loved reading Wrong but Right couldn't be more right. So of course I had to add the books to my tbr pile, but with the review pushing at the back of my mind that this book will be well worth the read, I pushed it up on my reading list and I am glad I did.
Jana Aston is JA Huss Assistant *screamed* she has the best job, I love Julie's books to a fault, even with all the heart wrenching twists she concocts. That aside, I can see why Julie has her around, she is ever so frigging talent and it helps that she's already in the book writing and publishing aspect of the industry, gets to meet, interact and acquire more writing tips, skills and knowledge from not only JA Huss herself but other amazing authors (yes I am jealous, she has a dream job)
I love Sophie Tisdale. Most female characters would tell their love interests when said love interest clichéd ex corners him/her and be catty plus petty–hey I'm not bashing anyone's writing style, it's just something I've never read before. But Sophie handles it like a pro albeit poorly. She gives it back to Gina in a manner that doesn't let her swoop to the other woman's level which gained my respect and she never mentioned it to Luke because she trusts him but this serves to cause a lot of problems in their relationship because she was always bridled with doubts (I know I would tell my love interest if I was in her shoes). Asides from that Sophie is an astounding being in general, and her level of self-respect and respect towards others despite the ones who didn't deserve it was a lovely experience to read.
Dr. Miller, hmm could I find a fault with him…? No he was perfect and I wasn't expecting that, I was holding my breath for him to do something stupid and the only thing he did well it wasn't stupid and from his own shoes, it so respectable and he's just so loveable okay and perfect Sophie period.
Wrong is a page turner. I couldn't drop it from the moment I picked it up to read, until I reached the last page. I had a lot of giggles and anger/annoyance towards some characters. The story overall is an awesome read, with lots of lovable and fun characters. A light read that would leave anyone who appreciates a good story that you can't just help but get lost in, happy they read it. I know it's hard giving new authors a chance, because you already have an established author following or too much books on your tbr pile. You couldn't be more WRONG there is nothing like too much books to read and Jana Aston is definitely worth it, I went into reading this book without evening knowing she is JA Huss assistant *I read end notes* and I'm just happy I read it (cause I'm in a happy little bubble right now, it happens when I've read a good book. Also the fact I wrote this review as soon as I finished Wrong, and I'm jumping into Right the next book in the series, yes Wrong can be read as a standalone as soon as I type this finish).