Book Everything, Everything Author Nicola Yoon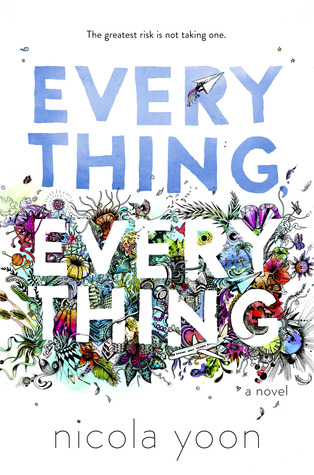 Published September 1st 2015 by Delacorte Books for Young Readers
I was hooked from the first page, OMG! This story was such a light breeze to read, even though it was 100% predictable, I still enjoyed reading it, cause of how cute it is!
I think because of the number of books I've read in my lifetime, it's quite easy to know how a book turns out, I am extremely serious I predicted everything. I knew whatever direction the story was heading, so the plot twist definitely did not even surprise me. Only few books plot twists surprises me these days, instead when I really enjoy reading a book I'm left feeling happy and giddy inside, or mind-blown and then the need to write a review is very intense, hence why I'm braving my cold and I ignored the Eid-Mubarak celebrations to read this book, I was literally in a room full of people (friends and friends of my friends) playing charades and I couldn't be drawn away from the book.
Hmmm, Maddy is something I like her very much. She's a wonderful beam of sunlight, despite the fact that she's allergic to the world? That aside she is a great kid and has the right head on her shoulder, lately I've mostly read books with eighteen year olds being so silly and I just want to scream at them.
Although I really enjoyed this book, there are some aspects I did not care for and it is because I could easily predict the story, as cute as this story is it is also pretty much a cliched book, it has overused tropes and somehow the ending felt rushed, sorry it was rushed, even though I liked how cute it ended, sue me, but the chapters leading to the end, could have been better and because of that I'm giving this story 4 Stars.
I am definitely looking forward to reading The Sun Is Also a Star which is Mrs. Yoon second book, it's out in November. I'm glad I read Everything, Everything. So thank you to all the people who said I should give Nicola a try and also Nicola herself, if she ever sees this, which is not even likely.
p.s. Isn't the book cover beautiful! I don't know how people prefer black covers to white covers, white covers just pop you know.