I promised I would review all the books I read this year, so I just gotta rack my brain and remember how I felt when reading these books, I've got so much going that when a book isn't very spectacular I forget how I felt when reading it.
Book Good Boy Authors Sarina Bowen & Elle Kennedy Series WAGs
Published January 31st, 2017 by Elle Kennedy Inc.
Hosting her brother's wedding for an MVP guest list is the challenge of Jess Canning's life. Already the family screw-up, she can't afford to fail. And nobody (nobody!) can learn from the colossal mistake she made with the best man during a weak moment last spring. It was wrong, and there will not be a repeat. Absolutely not. Even if he is the sexiest thing on two legs.
Blake Riley sees the wedding as fate's gift to him. Jess is the maid of honour and he's the best man? Let the games begin. So what if he's facing a little (fine, a lot) of resistance? He just needs to convince the stubborn blonde that he's really a good boy with a bad rap. Luckily, every professional hockey player knows that you've got to make an effort if you want to score.
But Jess has more pressing issues to deal with than sexytimes with a giant man-child. Such as: Will the ceremony start on time, even though someone got grandma drunk? Does glitter ever belong at a wedding? And is it wrong to murder the best man?
My Review
Started Reading – February 13th, 2017.
Finished Reading – February 13th, 2017.
Good Boy is a very entertaining read, this I am very sure about. I went into reading it and was very thrilled to find out the opening was Jamie and Wes wedding from Him & Us, and Jess the female lead is Jamie's sister and I loved this book, writing this review is bringing back all the feels. I loved how well Sarina and Elle write together, it's beautiful. Jess is going through a lot and I'm happy about how she is portrayed in the book and oh my goodness Blake is a basket case, just too funny and adorable, even without knowing it. This book was more than alright and if you need a chill book, go no further.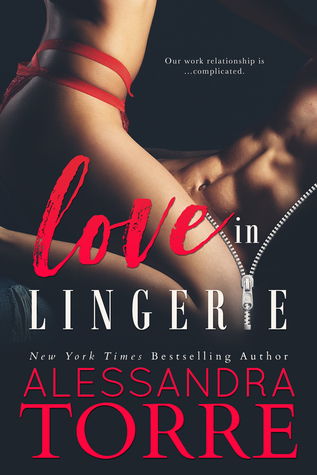 Published January 16th, 2017 by Select Publishing
I hired her to fix my company, to bring Marks Lingerie back to life. I didn't expect her to become my friend. I didn't expect to fall in love with her.
The first rule of business is to never touch your employees. I think there is another rule about not falling for your best friend—a rule against imagining the curves of her body, or the way her breathing would change if I pulled down her panties and unzipped my pants.
Now, I can't wait any longer. I'm tossing out the rules.
Damn the company.
Damn our friendship.
Damn my fears.
My Review
Started Reading – January 16th, 2017.
Finished Reading – January 16th, 2017.
Love in Lingerie, I can't really remember the story, it was good, but I think it stretched out over years and I got so annoyed with the two main characters, can't even remember their names. They kept making stupid decisions all for the sake of friendship, when it was clear they should be together, typical Alessandra style, I'm just happy that this book was way better than her last book and judging by this, I think she is getting back to her writing groove.