I'm quite excited about the books being released this month. I mean a new feminist book by Chimamanda, count me in! It is also pretty great that a lot of diverse books are being released this month and well, they are being recognised by us the readers, on my list are the books which piqued my interest. Quite a number of them are being released on the 7th, and it's like for each date, there is more than one book being released, makes me so happy. I really hope you guys decide to check out and read the books on my list.
A Crown of Wishes by Roshani Chokshi
The Star-Touched Queen #2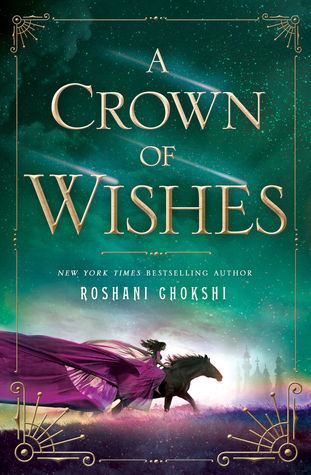 Publication – March 28th, 2017 by St. Martin's Griffin
Gauri, the princess of Bharata, has been taken as a prisoner of war by her kingdom's enemies. Faced with a future of exile and scorn, Gauri has nothing left to lose. Hope unexpectedly comes in the form of Vikram, the cunning prince of a neighbouring land and her sworn enemy kingdom. Unsatisfied with becoming a mere puppet king, Vikram offers Gauri a chance to win back her kingdom in exchange for her battle prowess. Together, they'll have to set aside their differences and team up to win the Tournament of Wishes—a competition held in a mythical city where the Lord of Wealth promises a wish to the victor.
Reaching the tournament is just the beginning. Once they arrive, danger takes on new shapes: poisonous courtesans and mischievous story birds, a feast of fears and twisted fairy revels.
Every which way they turn new trials will test their wit and strength. But what Gauri and Vikram will soon discover is that there's nothing more dangerous than what they most desire.
I loved the first book The Star-Touched Queen, it was quite the unexpected but pleasant ride, so I definitely can't wait to read the next book and discover the wonders of the world Roshani has created again.
Something by Shelby Lamb
Wisteria #1
Publication – March 7th, 2017 by Grunge Bookz
"I will find true love, and everything will be okay. I will find true love, and everything will be okay…" she chanted.
They say be careful what you read. Something is wrong. Something is very wrong. It can happen to anyone. This is just four teenagers' story.
Aubrey Golding hates her face, her body, and is devastated after Nathan Silva leaves her. Alone, suicidal, and desperate for love, she discovers a book called Something and unknowingly links others to a dark and terrifying curse that is beginning to consume her.
Nathan is glad to be moving on with someone new and can hardly believe what is happening now. Wild child and amateur porn star, Bella Broadhurst, loves bullying that "emo whore" Aubrey with the other girls, but mostly she loves partying, hookups, and plain ol' drama when terror arises. And Kendra Coke is just a new teen mother working on a delicate relationship when things start becoming utterly bizarre.
Chilling sleep disturbances and figures hiding in the corners of their rooms are just warnings of what is to come. Be careful what you read, they say. Tread carefully.
Shelby gave me this book long ago and I haven't read it, I'm such a disappointment. I started it, but due to it being on the Kindle app, I kept forgetting to read it—I detest the Kindle reader with a passion. I'll try and read it today and get a review up on the 7th.
Radio Silence by Alice Oseman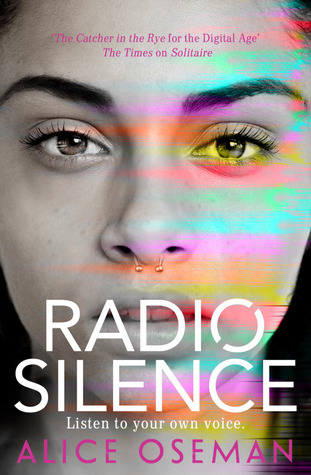 Publication – March 28th, 2017 by Harper Collins Children's Books
What if everything you set yourself up to be was wrong?
Frances has always been a study machine with one goal, elite university. Nothing will stand in her way; not friends, not a guilty secret – not even the person she is on the inside.
But when Frances meets Aled, the shy genius behind her favourite podcast, she discovers a new freedom. He unlocks the door to Real Frances and for the first time, she experiences true friendship, unafraid to be herself. Then the podcast goes viral and the fragile trust between them is broken.
Caught between who she was and who she longs to be, Frances' dreams come crashing down. Suffocating with guilt, she knows that she has to confront her past…
She has to confess why Carys disappeared…
Meanwhile, at uni Aled is alone, fighting even darker secrets.
It's only by facing up to your fears that you can overcome them. And it's only by being your true self that you can find happiness.
Frances is going to need every bit of courage she has.
The blurb has me sold and I feel like this would be a calm read for me, when I get the book.
Forget Me not by Ellie Terry
Publication – March 14th, 2017 by Feiwel & Friends
A girl with Tourette syndrome starts a new school and tries to hide her quirks in this debut middle-grade novel in verse.
Calliope June has Tourette syndrome. Sometimes she can't control the noises that come out of her mouth or even her body language. When she and her mother move yet again, she tries to hide her TS. But soon the kids in her class realise she's different. Only her neighbour, who is also the class president, sees her as she truly is—a quirky kid and a good friend. But is he brave enough to take their friendship public?
As Callie navigates school, she must also face her mother's new relationship and the fact that she might be moving again—just as she's starting to make friends and finally accept her differences. This story of being true to yourself will speak to a wide audience.
So I like really enjoy reading some children literature, because they are quite magical and entertaining, like Furtherore for example. I love the cover of this book and I love the concept of the story.
The Mermaids Daughter by Ann Claycomb
Publication – March 7th, 2017 by William Morrow Paperbacks
A modern-day expansion of Hans Christian Andersen's The Little Mermaid, this unforgettable debut novel weaves a spellbinding tale of magic and the power of love as a descendent of the original mermaid fights the terrible price of saving herself from a curse that has affected generations of women in her family.
Kathleen has always been dramatic. She suffers from the bizarre malady of experiencing a stabbing pain in her feet. On her sixteenth birthday, she woke screaming from the sensation that her tongue had been cut out. No doctor can find a medical explanation for her pain, and even the most powerful drugs have proven useless. Only the touch of seawater can ease her pain, and just temporarily at that.
Now Kathleen is a twenty-five-year-old opera student in Boston and shows immense promise as a soprano. Her girlfriend Harry, a mezzo in the same program, worries endlessly about Kathleen's phantom pain and obsession with the sea. Kathleen's mother and grandmother both committed suicide as young women, and Harry worries they suffered from the same symptoms. When Kathleen suffers yet another dangerous breakdown, Harry convinces Kathleen to visit her hometown in Ireland to learn more about her family history.
In Ireland, they discover that the mystery—and the tragedy—of Kathleen's family history is far older and stranger than they could have imagined. Kathleen's fate seems sealed, and the only way out is a terrible choice between a mermaid's two sirens—the sea, and her lover. But both choices mean death…
Haunting and lyrical, The Mermaid's Daughter asks—how far we will go for those we love? And can the transformative power of music overcome a magic that has prevailed for generations?
I love magic and I need to read more mermaid books, I don't think I've read a book with mermaids—being the center of attraction, since I read The Little Mermaid when I was a little kid. Ironically this a retelling of The Little Mermaid.
Dear Ijeawele, or A Feminist Manifesto in Fifteen Suggestions by Chimamanda Ngozi Adichie
Publication – March 7th, 2017 by Knopf Publishing Group
A few years ago, Chimamanda Ngozi Adichie received a letter from a dear friend from childhood, asking her how to raise her baby girl as a feminist. Dear Ijeawele is Adichie's letter of response.
Here are fifteen invaluable suggestions–compelling, direct, wryly funny, and perceptive–for how to empower a daughter to become a strong, independent woman. From encouraging her to choose a helicopter, and not only a doll, as a toy if she so desires; having open conversations with her about clothes, makeup, and sexuality; debunking the myth that women are somehow biologically arranged to be in the kitchen making dinner, and that men can "allow" women to have full careers, Dear Ijeawele goes right to the heart of sexual politics in the twenty-first century. It will start a new and urgently needed conversation about what it really means to be a woman today.
One of my role models, one of my nation's greatest fruit. I love when she speaks about feminism, because with her I can purely relate, because she's will make it clear to her brethens, what feminism is all about with African examples. I majorly excited for this book, and can't wait to get a hardcopy.
Amina's Voice by Hena Khan
Publication – March 14th, 2017 by Salaam Reads / Simon & Schuster Books for Young Readers
A Pakistani-American Muslim girl struggles to stay true to her family's vibrant culture while simultaneously blending in at school after tragedy strikes her community in this sweet and moving middle-grade novel from the award-winning author of It's Ramadan, Curious George and Golden Domes and Silver Lanterns.
Amina has never been comfortable in the spotlight. She is happy just hanging out with her best friend, Soojin. Except now that she's in middle school everything feels different. Soojin is suddenly hanging out with Emily, one of the "cool" girls in the class, and even talking about changing her name to something more "American." Does Amina need to start changing too? Or hiding who she is to fit in? While Amina grapples with these questions, she is devastated when her local mosque is vandalised.
Amina's Voice brings to life the joys and challenges of a young Pakistani American and highlights the many ways in which one girl's voice can help bring a diverse community together to love and support each other.
I need to read more books, with Muslims as the protagonist. Part of my year's book resolutions, I've seen a lot of books, but the blurbs don't reachout to me, like this one does, so I definitely have to read it.
American Prince by Sierra Simone
American Queen Trilogy #2
Publication – March 7th, 2017.
I've been many things.
I've been a son and a stepbrother. An Army captain and a Vice President.
But only with Him am I a prince. His little prince.
Only with Maxen and Greer does my world make sense, only between them can I find peace from the demons that haunt me. But men like me aren't made to be happy. We don't deserve it. And I should have known a love as sharp as ours could cut both ways.
My name is Embry Moore and I serve at the pleasure of the President of the United States…for now.
This is the story of an American Prince.
I didn't know that the first book American Queen was going to be a ménage book, I was plasantly shocked and very excited when I realized it would be a trilogy, I love ménage books not just any the mmf kind—especially the one's with a lovely storyline, and isn't filled with smut and fluff. This is one of them.
And you have it. My most anticipated release for the month. Which book would you gladly check out? And do you have a book you're excited for that is being released this month? Please share them with me.