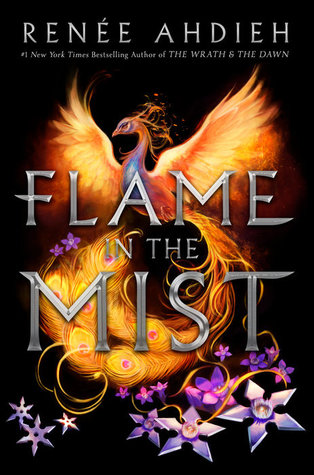 Book – Flame in the Mist
Series – Flame in the Mist
Series No – 1
Authors – Renee Ahdieh
Publication – May 16th, 2017
Publisher – G.P. Putnam's Sons Books for Young Readers
Blurb – The only daughter of a prominent samurai, Mariko has always known she'd been raised for one purpose and one purpose only: to marry. Never mind her cunning, which rivals that of her twin brother, Kenshin, or her skills as an accomplished alchemist. Since Mariko was not born a boy, her fate was sealed the moment she drew her first breath.
So, at just seventeen years old, Mariko is sent to the imperial palace to meet her betrothed, a man she did not choose, for the very first time. But the journey is cut short when Mariko's convoy is viciously attacked by the Black Clan, a dangerous group of bandits who've been hired to kill Mariko before she reaches the palace.
The lone survivor, Mariko narrowly escapes to the woods, where she plots her revenge. Dressed as a peasant boy, she sets out to infiltrate the Black Clan and hunt down those responsible for the target on her back. Once she's within their ranks, though, Mariko finds for the first time she's appreciated for her intellect and abilities. She even finds herself falling in love—a love that will force her to question everything she's ever known about her family, her purpose, and her deepest desires.
My Review
Started on – May 21st, 2017.
Finished On – May 22nd, 2017.
When I love an author, I go into reading her or his book blind, without having any information on what the story is about and just to be blessed with the creative baby the author has birthed. This is the case with Flame in the Mist. After I finished the wrath and the dawn series I vowed to continue reading all the books Renee Ahdieh writes and I only have praises for Flame in the Mist. Renee Ahdieh's writing is superb, it's beautiful, enchanting and just captivates you. I love the way she weaves her tales and how she ensnares me within her trap, I will forever fall willingly for her writing.
So this book is set in feudal Japan. I found it wonderful reading about a culture that I may never know substantially much about, but like they say through books you can discover the world. I had to look up some words as I was reading, just because I didn't check the content and realised there is a glossary, till I was done with the story.
The story starts off with a bang, the action begins almost immediate. The first chapter has me stunned and grasping to know more and what happened to the little rōnin and we have Mariko fighting to stay alive and most definitely survive despite her circumstances.
Then comes the Black Clan, who in Mariko's eyes are the cause of her ill-fatedness. Due to saving a member of the black clan, she finds herself their new recruit and so does her training begin, but she has her own hidden agenda of staying rather than fleeing. Instead of being a coward and succumbing to defeat, she gives herself renowned purpose.
But things don't always go as planned and she finds herself conflicted in where her true loyalty lies. So many of her actions lead to chaos and her twin brother Kenshin, the Dragon if Kai doesn't help matters at all, in his plight to save her, he causes so much destruction and in turn, makes Mariko question everything she once believed, especially when the true purpose of the members of the Black Clan, comes to light.
Let me talk about Ōkami, he is my ultimate book crush at the moment. There is just something about him, I mean he is terrible, he has the bad boy with virtue down to a T. and I could feel his plight when he kept worrying about his feelings for Sanada and I was so glad when the cat was out the bag between two of them, cause they were making me mad with their constant bickering and giving me bromance feels, their interactions had me smiling to the max.
I love how this book advocates for women. I love how stubborn, determined and fierce Mariko is and how we see her grow from a sheltered girl to the young woman that she is a true feminist in her own right. And Ōkami response to when she asked him why he didn't stop her from being a girl. I swooned and everyone around me gave me weird eyes. It doesn't even stop there Ōkami is always defending Mariko, not in a way to belittle her, but to point out the strength in her being a woman and that her being a woman doesn't make her any less a human being, whatever the sex. I love Ōkami.
The other members of the Black Clan gave me good feelings, Yoshi and even troublesome Ren. All of them have great personalities, Yumi the young maiko.
As the story was coming to an end, I was growing sadder by the pages and mourning the wait for the next book, cause as the story progresses it just keeps getting better and better. And the plot changes, more secrets are revealed and you're just left stunned and lost in thought, there are so many answers I want nd I just can't wait for the next book, even though I have to wait.
I ship Okami and Mariko 100%