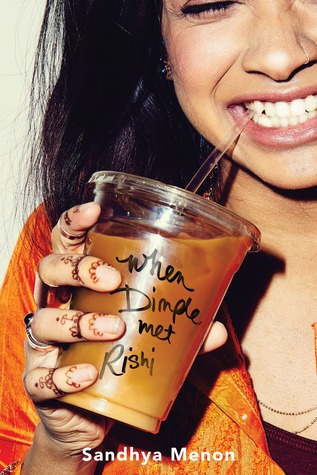 Book – When Dimple Met Rishi
Authors – Sandhya Menon
Publication – May 30th, 2017
Publisher – Simon Pulse
Blurb – A laugh-out-loud, heartfelt YA romantic comedy, told in alternating perspectives, about two Indian-American teens whose parents have arranged for them to be married.
Dimple Shah has it all figured out. With graduation behind her, she's more than ready for a break from her family, from Mamma's inexplicable obsession with her finding the "Ideal Indian Husband." Ugh. Dimple knows they must respect her principles on some level, though. If they truly believed she needed a husband right now, they wouldn't have paid for her to attend a summer program for aspiring web developers…right?
Rishi Patel is a hopeless romantic. So when his parents tell him that his future wife will be attending the same summer program as him—wherein he'll have to woo her—he's totally on board. Because as silly as it sounds to most people in his life, Rishi wants to be arranged, believes in the power of tradition, stability, and being a part of something much bigger than himself.
The Shahs and Patel's didn't mean to start turning the wheels on this "suggested arrangement" so early in their children's lives, but when they noticed them both gravitate toward the same summer program, they figured, Why not?
Dimple and Rishi may think they have each other figured out. But when opposites clash, love works hard to prove itself in the most unexpected ways.
My Review
Started on – June 1st, 2017.
Finished On – June 1st, 2017.
I love Rishi so much, oh my God he is one the sweetest and most romantic character ever, he is so blissfully ignorant and blind to his ways, he doesn't know he is suppressing himself for all round happiness in all aspects of his life and it so shows how much he is instantly taken to Dimple.
Dimple's name is so cute. I love it love it love it! I love her interactions with her mum so much, it reminds me of my mum also and how I have to tell her how misogynistic she is being about some aspects of my life, but mothers the all knowing and wise ones when it comes to their children's lives. I love Dimple's interaction with her family, it very refreshing, funny and sweet.
I love Rishi. I love how he picks to call out bs rather than keep quiet like Dimple when it comes to the Aberzombies, this made me laugh so bad lol. I love how both Dimple and Rishi, have each other's best interest at heart and want each other to prosper in what they have a passion for and love doing. I love how Rishi loves Dimples though, it's so clean and their first date was so swoon-worthy.
I love Ashish also, he is the perfectly infuriating younger brother, but it's clear he also looks up to his brother but is infuriated with how hard rishi's on him, I'm so glad they got to work out their difference and have a healthy brother relationship going.
I love that Celia finally had her priorities straightened in the end. I also love that despite the friends they kept Celia and Dimple's friendship blossoms.
I love the message this story is passing on to its readers, be true to who you are and don't try to make yourself into something that you're because you'll just end up unhappy.
If you need a light, fun, sweet and cute book to read this is a good book to read and it will surely put you in a good mood, read it in a few hours.
Reading this book was like watching a Bollywood movie, minus the singing and dancing. It played vividly in my head and it helps that I watch a lot of Bollywood films and know the actors and actresses plus movies mentioned in this book. I need to read more Indian books.